Saturday, September 5th, 2009
FIBA Americas Qualifier: Day 10
Canada defeated the Dominican Republic 80-76 and grabbed the final berth for the 2010 FIBA World Championship. The field is now complete as Canada joins Argentina, Brazil and Puerto Rico.
After Canada's unexpected qualification, coach Leo Rautins said he'll add three NBA players to the roster.
"We're going to be making some changes," said Rautins after the victory over the Dominican Republic. "Maybe (Steve) Nash, Matt Bonner, Jamal Magloire. We're very excited."
Rautins was quick to give credit to the players who helped Canada clinch the final berth.
"I'm very proud of those guys. We had 12 players here. There weren't any stars," Rautins said. "They never gave up."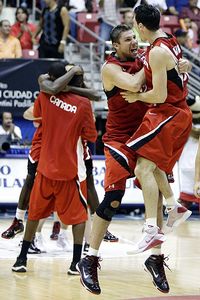 Canada held off the Dominican Republic to clinch a berth in the final four.
(AP Photo/Ricardo Arduengo)
The Canadian coach applauded their opponent's poise and effort on the court, being that they never gave up despite blowing an eight-point lead at halftime.
"I tip my hat off to the Dominican Republic. They're a talented team that worked from start to finish," Rautins said.
Rautins and the Canadians will now face Brazil.
"We have the opportunity to play every team that has beaten us. We have that second chance," Rautins added.
Jermaine Anderson led Canada with 21 points, Carl English scored 13, Jesse Young had 11 and Levon Kendall added 10 with 11 rebounds. Aaron Doornekamp scored eight points and made two crucial baskets in the victory.
Canada hasn't qualified for a FIBA World Championship since 2002 when they finished in 13th place. The Dominicans haven't qualified for the FIBA World Championship since 1978.
Luis Flores and Charlie Villanueva both scored 17, while Al Horford finished with 14 points and 14 rebounds in defeat.
———————————————
Congratulations to Leo Rautins [Head Coach] … and his staff … and the 12 players who won yesterday's do-or-die game versus Dominican Republic to qualify Canada for the 2010 World Championships [in Turkey].
That's what this corner refers to as … Getting the job done!