Greatest strengths, and greatest weaknesses
Concerning the tragic fall of Eldrick …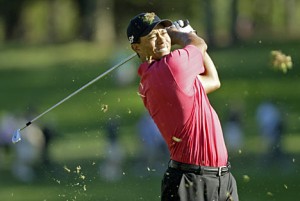 Tiger Woods was the best golfer of all-time, for a period of 10+ years, because of THE WAY HE COULD WILL HIS WAY around a golf course in fewer strokes than anyone else in the game, based on his sheer mental strength and his almost inhuman capacity to DO ANYTHING HE WILLED HIMSELF TO DO, in any area of his life, not just on the golf course.
Once that WILL has been broken, it can never ever be put back together again, in the same way.
Woods will win again, if and when the time is right; but, he will never ever be the player he once was … when he had a supreme belief in his own ability to do the near impossible, time after time again.
————————————–
PS. The current time is 3:45 PM EST … and, Mr. Woods is -5 for the day, -10 overall, and just 1 stroke behind the present leader during the 4th Round of the Masters golf tournament, as he is putting for Par at the 9th Hole. Could it possibly be …
PPS. Yours truly sincerely hopes that it is.

PPPS. The Masters only begins, however, on the back nine, Sunday, at Augusta National Golf Club … the most theatrical 2+ hours in the history of sport.